FAQ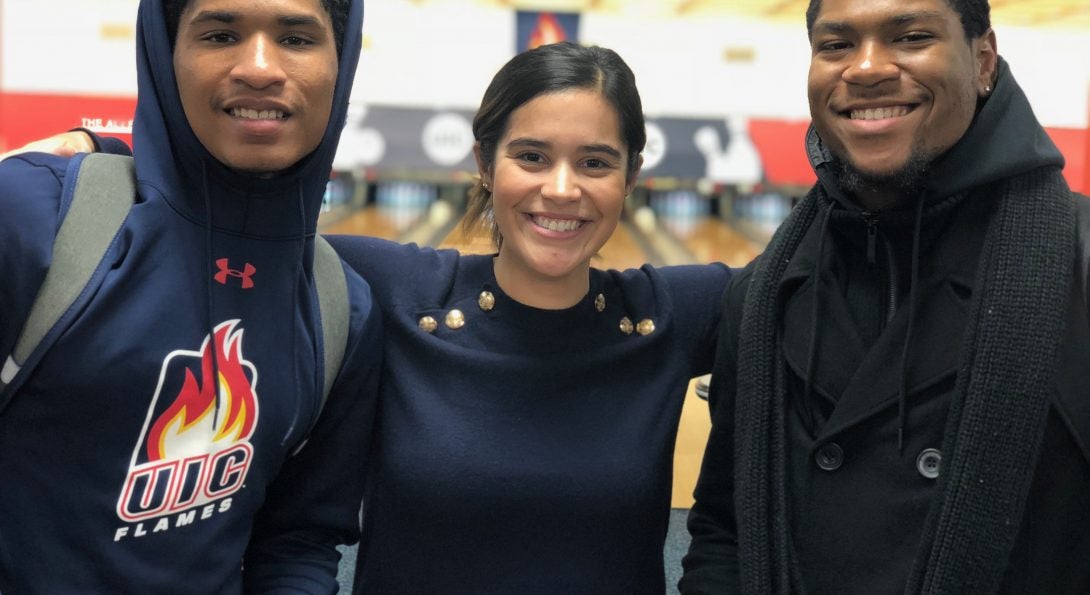 Common Questions about FLN Asked by New Students
What is FLN

The Flames Leadership Network (FLN) is an exclusive program that identifies students who have a commitment to their academic success, promise to succeed, leadership potential, and helps them thrive at UIC. You will be paired with a network of University professionals who will help you realize your fullest potential during your first year and beyond. For more information, please visit our website: https://fln.uic.edu

What is coaching?

Coaching is a holistic approach to developing goals, enhancing skill sets and navigating campus in partnership with a transition coach from the Office of First-Year Initiatives.

Your coach provides additional on campus support to help you navigate through your first year at UIC. For example, they can help problem solve financial and academic challenges and connect you to additional resources. Coaches are not Academic Advisors, but instead, focus on ensuring you have the most fulfilling first year experience as possible.

Who is in my network of support?

Being a part of the FLN program means you will be connected with a Flames Leadership Network Coach and other UIC supports and programs. You will also engage with continuing FLN students who are in their second year and beyond at UIC!

What is an "experience"?

An experience can be a workshop through the Academic Center for Excellence or Career Services. As well as through cultural events or civic engagements hosted by offices at UIC. Experiences can also be virtual such as the UIC Career Fair!

Your UIC experiences should be tailored to your academic, career, and personal goals, and your coach can help you pick opportunities that match your academic and personal aspirations.  "Experiences" help you establish more connections on campus and discover your interests and passions! Online experiences will be available throughout the fall semester.

Is the program mandatory?

Once you have signed an FLN agreement, you are expected to meet the requirements and commit to the program. If you have additional questions about this, please feel free to contact your FLN Coach.

Do I have to attend all of the FLN promoted events?

We highly encourage you to attend a variety of FLN events that are provided through our office or through other campus partners.  Per the contract, you are only expected to complete 4 UIC experiences each semester.

How will I get my award?

Your award will be added to your financial aid package. You will be able to see when it has been added on your UIC portal in the financial aid section. It is important to check your emails regularly to check for updates from the Office of Financial Aid.

What happens if I registered for less than 15 credit hours?

We understand meeting the 15-credit hour requirement may be challenging for some students. If you have registered for less than 15 credit hours, that is not an issue but you are required to update your Coach.

I need/want a job-how can FLN help?

If you want a job please notify your coach and they will help you to identify possible opportunities.

How do I meet with my coach?

There are many options for you to connect with your coach. Zoom, Google Hangouts (through Gmail), Remind App (allows texting).

COVID: How will I connect with my coach if campus is limited?

For the health and safety of all students and staff at the University, we will follow rules and guidelines as provided by the University and the State of Illinois. This summer, all interactions will remain virtual as often as you need within traditional business hours. We will continue to inform students about campus updates through the UIC website.

You will have access to your coach through email, Remind, Zoom, and Google Hangouts.

How often do I need to meet with my Coach?

You are required to meet with your Coach twice a semester, but your coach is happy to meet with you as often as you want.

I'm afraid about overcommitting this semester. Should I still join FLN?

Yes! Your involvement in FLN is manageable with other responsibilities, and FLN will provide you opportunities to enhance your time management and organizational skills. As well as provide the support you many need to navigate new challenges and celebrate accomplishments.
We completely understand you may not be completely sure and that is why you have the opportunity to talk to a coach to ask questions as you see fit. You are also welcome to ask to speak to a former FLN first-year student, who has been through the program and can explain the benefits of participating from their perspective. Go to https://fln.uic.edu and click "contact us" and ask to speak to a student!