The Flames Leadership Network (FLN) takes a holistic, asset-based approach to empower students to reach their fullest potential and achieve self-sufficiency in taking advantage of coaching and opportunities at UIC and beyond.
FLN includes: regular one-on-one meetings with a dedicated coach for tailored support and skill building, career advisor for major and career exploration; support in procuring on-campus employment; monthly academic enrichment workshops; and a program stipend for engagement and participation!
We believe that all students have the capacity for leadership and success; our program offers coaching to compliment the strengths and assets of our students so that they reach optimal success throughout their academic journey!
Flames Leadership Network: COVID-19 Notification 
The Office of First Year-Initiatives is in solidarity with all our campus community, and people in every community and country experiencing this global health crisis. Despite these most uncertain circumstances, we will continue to provide support to our students in order to achieve excellence.
As of Monday, March 16th and until further notice, the First-Year Initiatives physical office will be closed; however we will continue to provide services virtually.
Students: Please feel free to reach out to your respective coach by email,  Remind,  Microsoft Teams and Google Hangouts.
You can also set up appointments with your coach through iAdvise. Click HERE to set up an appointment now.
Stay connected and let us know how we can support you during this unprecedented time.
For more information on COVID-19 and campus announcements, please click on the link below.
Take care and stay safe,
The Office of First-Year Initiatives | Flames Leadership Network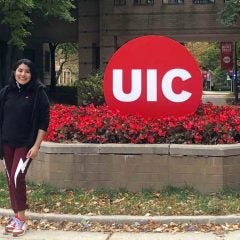 Daniela is a first year FLN student at UIC who is pursuing a degree in Computer Science. She was motivated to pursue Computer Science due to her participation in Google's Computer Science Summer Institute. Daniela is extremely focused on her studies and works hard to complete her assignments and always advocates for her needs. Daniela was able to take advantage of the GEER Grant to live on campus and has been thriving with her new independence.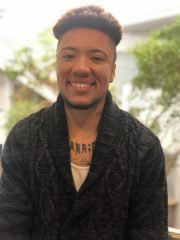 David Perez is a FLN scholar who is double majoring in Sociology and Psychology and plans on pursuing his Master's in Social Work. In addition to working in the Gender and Sexuality Center this year, David participated in the Liberal Arts & Sciences Internship Immersion Program. Due to his hard work and persistence during his first year, David was able to earn both a Summer Orientation position and a Resident Assistant position for next fall!
1/25/23, 3:00 pm–2/15/23, 4:30 pm
Virtual via Zoom
1/26/23, 3:30 pm–2/16/23, 5:00 pm
Virtual Via Zoom
Tuesday 7th, 1:30 pm–Tuesday 28th, 3:00 pm
Virtual via Zoom
Thursday, 6:00 pm–7:00 pm
Architecture and Design Building - Room 1100
Friday, 2:00 pm–4:00 pm
Student Center East Tower - Room 713
Monday, 1:30 pm–2:30 pm
Student Center East - Commuter Center Multi-Purpose Room